It's almost that time of year again! Saint Lucia will come alive with a vibrant celebration of colour, music and dance from 1-19 July 2023 as they host the Saint Lucia Carnival!
---
The 2023 Saint Lucia Carnival looks all set to be the best one yet! With a variety of national, community and local events spanning almost the entire month of July, it's jam-packed with fun!
Also Read: St Lucia to host the World Travel Awards Caribbean and The Americas 2023 
What is the Saint Lucia Carnival?
Previously known as the Lucian Carnival, the Saint Lucia Carnival is a celebration of Saint Lucia's rich heritage and culture. It is the biggest event on the calendar and over 5000 people will gather in dress up to revel in the joyous occasion. If you're ever looking to experience Saint Lucia's culture then this is where you can enjoy it at its brightest, loudest and purest. Add to that 30,000 spectators and a online audience of over 60,000 and you've got yourself one big party!
History of the carnival
This remarkable and one-of-a-kind celebration evolved from the islands unique mix of Caribbean, African and Catholic heritage. Traditionally held before Lent, the traditions and festivities were moved to the summer in 1999 to avoid competing with the Trinidad and Tobago Carnival. As a result, it remains a period of celebration and feasting and grows more popular every year, attracting visitors from around the globe.
What can I expect?
There are lots of carnival events and fetes that take place in the months and weeks leading up to the Saint Lucia Carnival.
These events range from vibrant music festivals to rich cultural celebrations. So imagine colourful parades, elaborate costumes, conga lines, dancing, delicious street food, pageants and fetes! Fetes are the Saint Lucia Carnival parties that take place leading up to the Grande Parade. Featuring live performances by Caribean music artists, steelpan and soca bands, these events are not to be missed. As the Grande Parade draws never, the festivities get bigger.
Colour me red
One of the most highly anticipated pre-parties leading up to the main carnival event is a huge street party called 'Colour me red'. Ultimately, everyone wears red to this public street party and enjoys the festivity together.
The Grande Parade
The main carnival dates where the Grand Parade will take place are on 12 July 2023 and 19 July 2023. Subsequently, the 'main' carnival events take place on these two days, including a Parade of the Bands, Panorama Steelpan Competition and Road March competition.
Historically, Carnival Monday is the day that spectators wear their carnival costumes. Then, on Carnival Tuesday they where whatever they like in the march. It's an explosion of colorful costumes, jewels, feathers, headdresses, wings mixed with dancing to the sounds of the soca.
Schedule of events
Here's a full schedule of events that you can join during the Saint Lucia Carnival.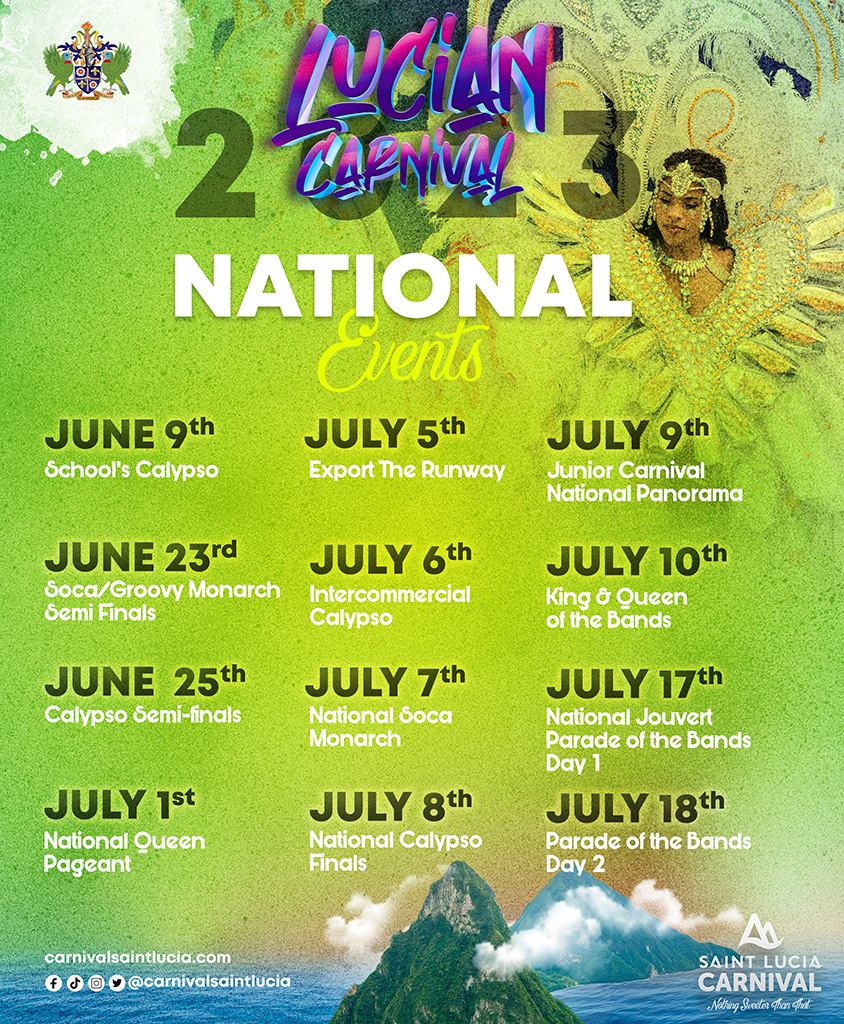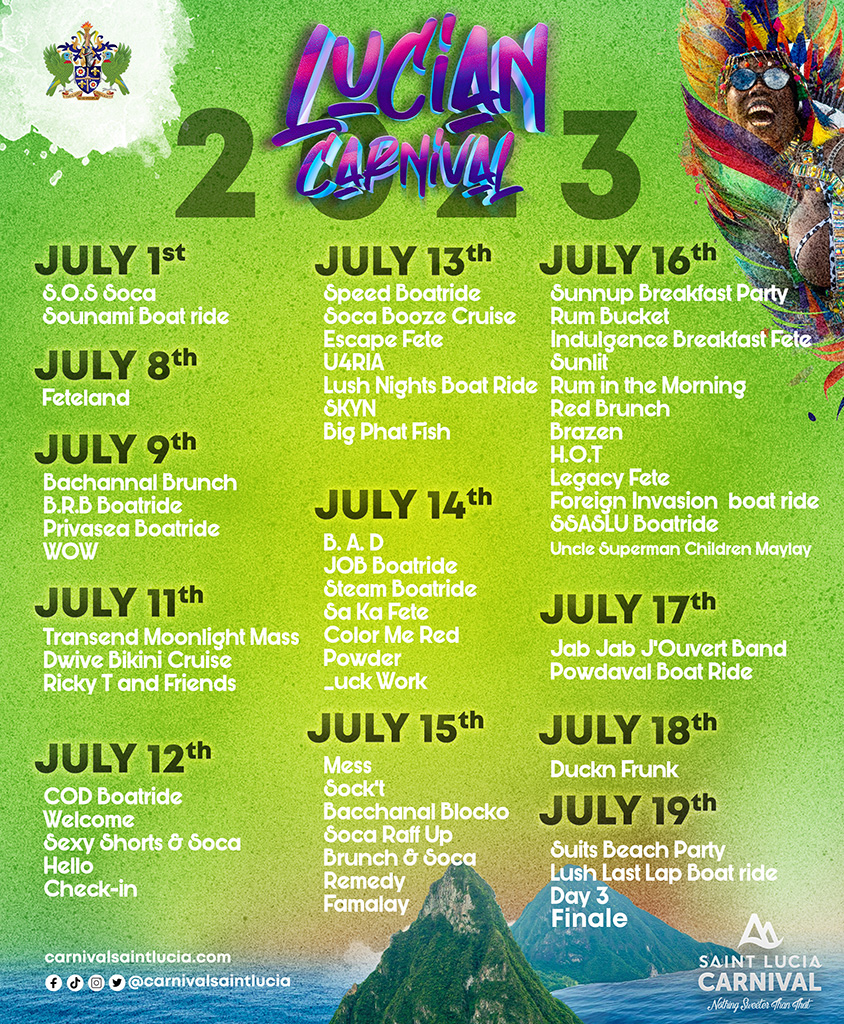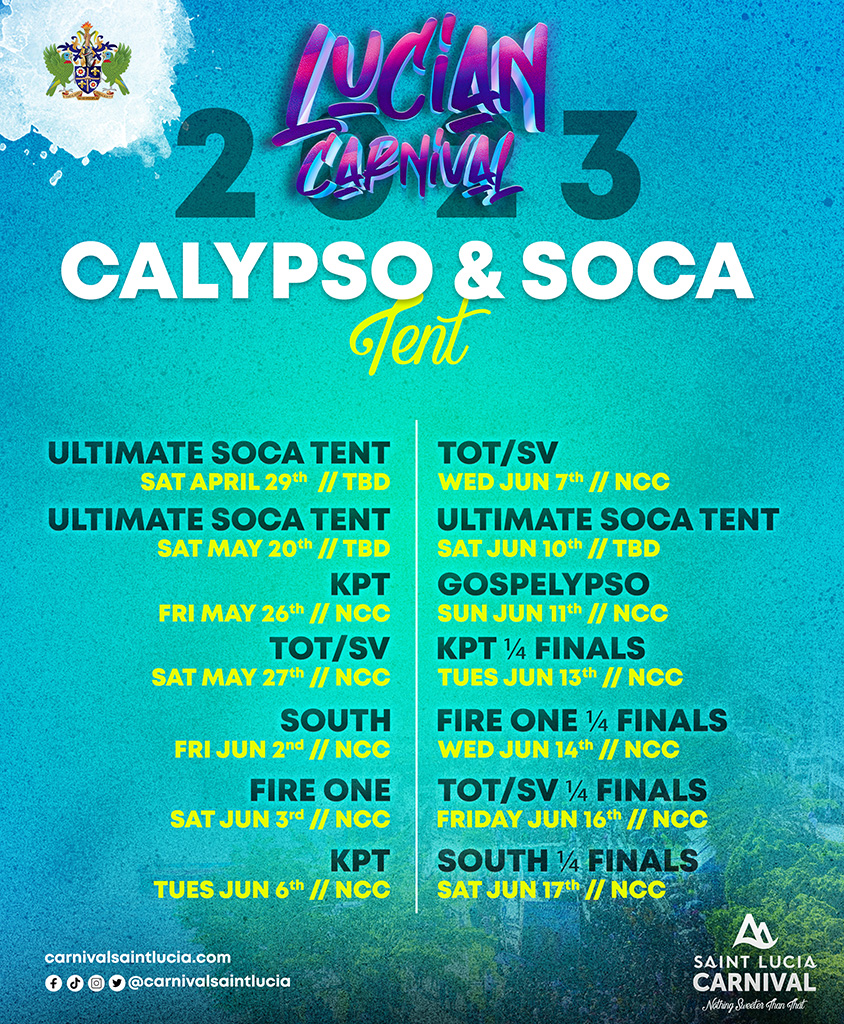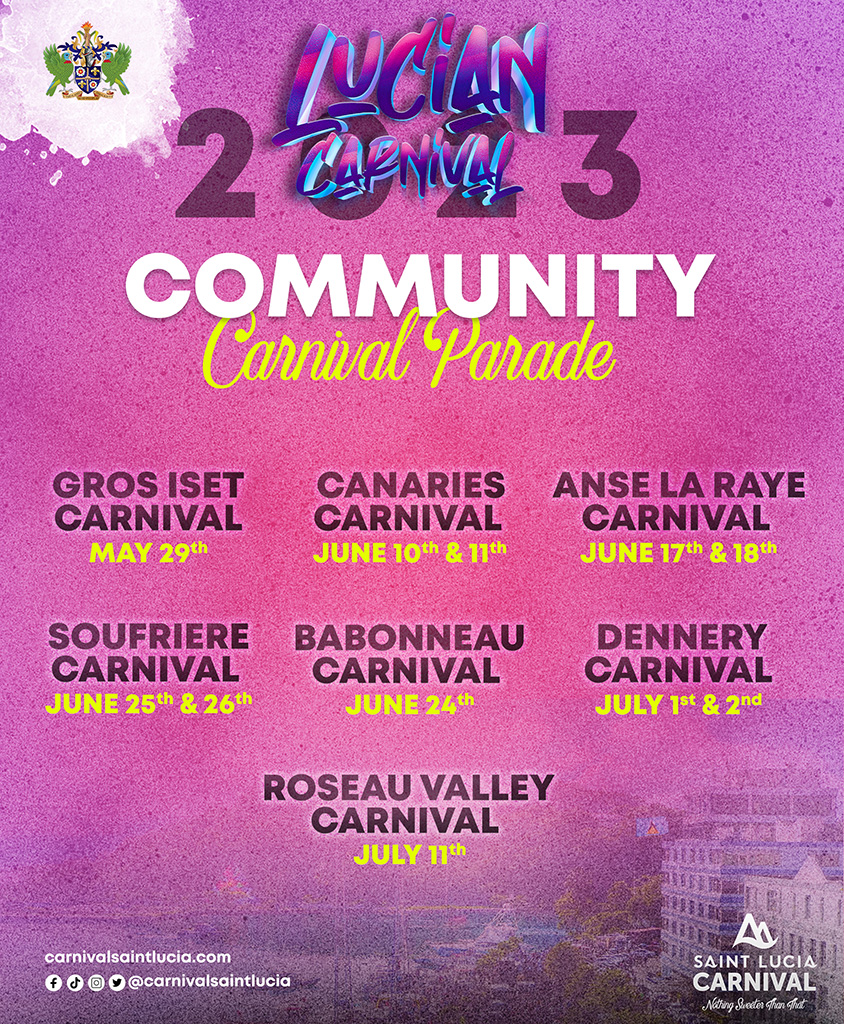 A bit about the hosts
Saint Lucia is a volcanic island in the eastern Caribbean sea. Known for pristine beaches and the Piton mountains, Saint Lucia is a gem  in the Citizenship by Investment (CBI) industry.
Saint Lucia is a popular tourist site with tropical weather and scenery. A large number of beaches and luxury resorts dot the island. Additionally, it's known for its unique cuisine, exciting sports and adventure activities.